Internalize the concepts. Execute with confidence.
Never Startup Alone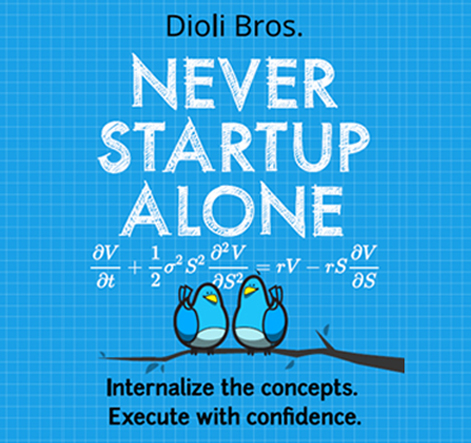 As we've all experienced, starting up and running a business takes nerves of steel. "Never Startup Alone" takes you through this journey in an easy-to-read, highly engaging fashion. This eBook is a vital resource to anyone thinking of starting a company.
- Daniel R. Saccani

Ravix Group, Inc
CEO, Managing Partner

Why do you want to start a business?
Starting a business will be one of the most difficult challenges you'll ever face. It's a bone-chilling plunge into the unknown. The initial jolt of adrenaline will last a few hours, days or weeks. Afterward, overcoming doubt and staying motivated quickly become vital for success. On the flip side, if you do it right, it'll be one of the most rewarding experiences you'll ever have.
You can't do it alone.
Pressure tested in the meat grinder of Silicon Valley, the Dioli brothers have condensed their life experiences into a super-engaging and easy-to-read manual. The topics they cover range from team building and fund-raising to the basic principles of risk and unit economics.
This book is your guide.
Starting up and managing a business requires unwavering commitment and nerves of steel. The Dioli brothers have walked this path on numerous occasions, experiencing both the sweet smell of success and the agony of defeat. Their knowledge not only highlights the big picture, but it also provides valuable insights into the inner workings of running a startup or a small business.
The decision to form a company is monumental, and it's not something to be done in haste. Expand your knowledge.
Read this book. Internalize the concepts. Execute with confidence.
What others are saying
Great pragmatic and tactical advice for startups.
I wish I had a guide like this when starting my first startup. Many books have been written that focus on getting your idea off the ground and scaling it, but few actually tie all of that back into the day-to-day structures you need to have in place to execute successfully. Never Startup Alone does an excellent job of explaining and framing the various aspects of an early-stage business that may seem inconsequential at first, but could make or break you as you start to gain traction. Whether it is financing, equity management, corporate structure, etc., not getting these mostly right at the onset can lead to so many expensive consequences that new founders would not be otherwise capable of predicting. This book provides the explanations and guideposts for navigating these aspects of your business, while dutifully explaining the different dynamics involved from all angles. Never Startup Alone is like a warp zone for gaining startup experience.
Zacharias


Help!! I Can't Put This Book Down, Must Keep Reading..
WOW. Anybody who has ever started a business, is thinking about starting a business or knows anybody who started a business MUST READ this book. I can't put it down. It's like they are talking directly to me in a fun and EASY-TO-READ style, like your smart, experienced friend sharing all the inside details only with you. NY Times Best Seller Material.
Chris


Real World Vs a One Trick Pony
Great book based on a variety of company experiences of winning and losing versus most books that focus on a one time winning experience.
M Green


Dioli Bros Well Done!
The Dioli Bros put together an entertaining and insightful book on the risks pitfalls and rewards of starting a business. Anyone who is contemplating or struggling in a new business must read this book. Enjoy your coffee gents...you guys are closers!
Amazon Customer


Honest, straightforward and insightful!
Best book I ever read about what it takes to run a startup. These guys nailed it! This book is a must read. Forget the blogs and email subscriptions that cover start up issues. This book tells a compelling story and provides essential information.
Kindle Customer